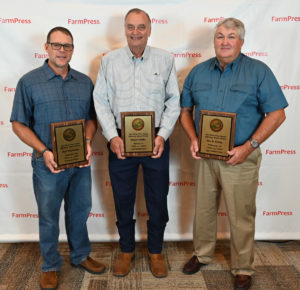 During the Conference four peanut producers received the annual FarmPress Peanut Efficiency Awards presented at the Friday Saturday breakfast. Producers were praised and recognized for efficiently growing high-yielding peanuts.
The 2022 winners are:
Upper Southeast: Ben Cowin, Williamston, N.C.
Lower Southeast: Wayne Hobbs, Irwin County, Ga.
Delta: Mitchell Rogers, Covington County, Miss.
Southwest: Karl Stutzman, Weatherford, Okla.
Pictured are the three winners in attendance (l-r) Karl Stutzman, Wayne Hobbs and Ben Cowin. Mitchell Rogers, was not able to be there.
We asked each winner a couple questions about receiving the award and you can listen below. Key elements of their answers were to pay attention to detail and trust in God. All these winners made remarks about how important their faith is to them and their families.
Upper Southeast States Winner interview:
Interview with Ben Cowin" (1:27)
Southwest States Winner interview:
Interview with Karl Stutzman" (1:20)
Lower Southeast States Winner interview:
Interview with Wayne Hobbs" (1:44)