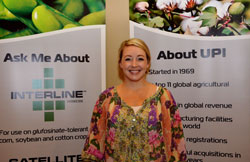 It's always wonderful to meet a new addition to the Southern Peanut Growers family and this year we had the pleasure of meeting Alexis Benge-Bromley with UPI, a global crop protection product company based in Pennsylvania.
Being a Mississippi native, Alexis felt right at home and will definitely be back again next year. "I've had a chance to meet with a lot of growers, and people in the industry down to the buyers point, down to the consumers," Alexis said.
UPI (United Phosphorus, Inc.) was started in 1969 and has been a premier supplier of crop protection products and plant technologies designed for the agricultural, professional, and aquatics markets.
Welcome Alexis – and we'll see you next year at the 20th Southern Peanut Growers Conference!
Interview with Alexis Benge-Bromley, UPI
Check out both photo albums: