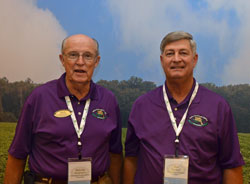 The 18th annual Southern Peanut Growers Conference is back on the Gulf Coast of Florida and the theme this year is Survivor: Managing the Challenge.
The meeting last year was held at Callaway Gardens in Georgia, after the longtime conference location in Panama City Beach was no longer an option, and those who attended that event were surveyed about potential future locations. "Our attendees overwhelmingly said we love beach locations," said Florida Peanut Producers Association Executive Director Ken Barton. So, this year the conference is at the Sandestin Golf and Beach Resort in Miramar Beach, Florida – which is basically Destin.
Malcolm Broome with the Mississippi Peanut Growers says they chose this year's theme because of all the challenges facing the industry. "We're hoping to give our growers information about how to survive in the next 3-4 years," said Broome.
Listen to my interviews with Ken and Malcolm here and look forward to hearing more about surviving the challenges ahead in the peanut industry.
Interview with Ken Barton, FL Peanut Producers
Interview with Malcolm Broome, Mississippi Peanut Producers