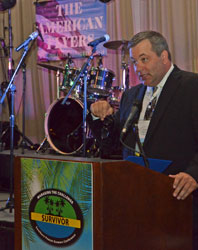 Attendees at the 2016 Southern Peanut Growers Conference danced the night away to the sounds of The American Flyers Saturday night, thanks as always to the generous support of Syngenta.
"We were one of the first sponsors and we're proud to be part of it – it's a family," said Lyle Stewart with Syngenta, who says they are with peanut growers for the long haul.
"The one thing we continue to try to do is reinvest in our products through research and development," Stewart said. Syngenta has introduced two new products recently for peanut growers with another one on the way in 2018. "Our hope is that if we continue to do the research to offer these new products to the peanut growers that will help them survive," Lyle added.
Interview with Lyle Stewart, Syngenta
Thanks again to all of the sponsors who make the SPGC possible – See you next year!