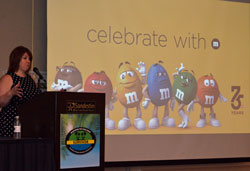 The melt-in-your-mouth-not-in-your-hand classic candy is 75 years old this year and Mars has been celebrating by targeting the biggest generation in history with modern messaging.
"We want to make sure that we're staying relevant with our consumer base and the largest consumer base is the millennials," said Anne-Marie DeLorenzo, who serves as strategic sourcing manager for Mars Chocolate North America. "The way they get their news and media is on some type of device."
That's why Mars has really stepped up its use of social media channels such as Facebook and Instagram to really connect with millennials this year, starting with the release earlier this year of a remake of Sammy Davis Jr.'s 1972 classic "The Candy Man" by recording artists Zedd and Aloe Blacc.
"The Candy Man remake was 98 percent neutral to positive response, which is a phenomenal response for an advertising campaign," said DeLorenzo.
In this interview, Anne-Marie also talks about how Mars will be 100% high oleic peanuts in 2018. Interview with Anne-Marie DeLorenzo, Mars Chocolate
If you haven't seen the M&Ms Candyman, watch it below – it's a treat!