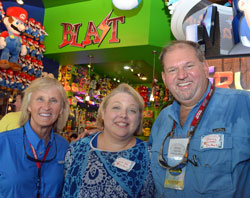 DuPont gave young and older alike a blast of fun at the 2016 Southern Peanut Growers Conference at Sandestin Resort.
The 2400 acre resort includes a village with shops, restaurants and entertainment including an arcade which DuPont rented out for Friday afternoon to provide a fun place for everyone to hang out in the air conditioning after a long day of meetings or the beach.
DuPont has been a long time supporter of the conference and started offering the Friday afternoon family-oriented entertainment option the past couple of years and this year was definitely a blast for all!