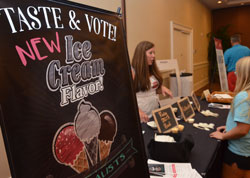 It was a sweet start to the Southern Peanut Growers Conference as attendees had the opportunity to taste and vote for their favorite southern-inspired flavor in the Eat Y'all Ice Cream Contest during the opening social.
Eat Y'all, a social media company dedicated to telling the story of southern agriculture, collected nearly 200 dream ice cream flavor suggestions in June for National Dairy Month and then had followers choose the three finalists. Sweet Magnolia Gelato Company created the top three flavors for tasting: Rocky Delta Road (sweet potato, marshmallow and pecan), Fluffernutter (marshmallow cream, peanut butter and chocolate-covered peanuts, and Peachy Keen (peach, pecan and bourbon).
Eat Y'all writer Brooke Goff says they hope to announce the winning flavor in 2-3 weeks, but considering Fluffernutter is the one that features peanuts, it was the clear favorite at the conference!
Listen to my interview with Brooke here: Interview with Brooke Goff of Eat Y'all