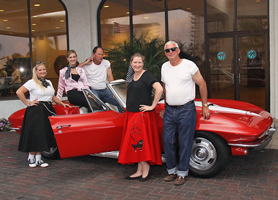 For the first time since we have been covering this event, I left before the final dinner and entertainment this year and it looks like I missed one of the best ever!
Sponsored as always by our good friends at Syngenta, the entertainment featured a blast from the past with Rocky & the Rollers who kept everyone bopping as they played the classic hits from the 50's and 60's.
You seriously have to check out all the photos in the Georgia Peanut Growers 2014 SPGC Photo Album. Some great outfits there!
See you next year, peanut lovers!