The Southern Peanut Growers Conference had a record crowd this year at nearly 700 and a record number of sponsors. Among the new sponsors this year were the Propane Education and Research Council (PERC) and Farm Credit of Florida and Northwest Florida.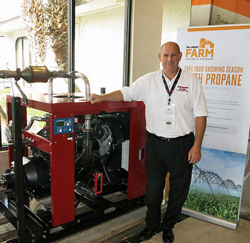 Bill Moore with Conger LP Gas in Tifton, Georgia was representing PERC with a display featuring one of 15 propane irrigation engines. "Over the last three years, we're seen a substantial interest in propane replacing some older diesel units," Bill says. "With diesel prices where they are and a lot of new regulations on newer diesel engines, propane engines because of their fuel efficiency have become more popular."
Interview with Bill Moore, Conger LP Gas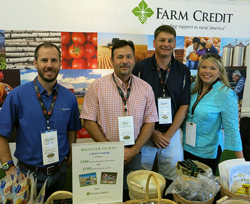 Most farmers are very familiar with Farm Credit, but Stephen Roach who works out of Marianna, Florida says this is a great opportunity to talk with producers in more detail about everything they offer under the ag umbrella and what is new. "Several Farm Credits throughout the Southeast are working together with a program we call "Farm Credit Express" which is an equipment financing program through the dealerships," said Stephen. "They can get the loan approved at the dealership and they can walk out with their loan approved and with their equipment and they never have to come to a Farm Credit office."
Interview with Stephen Roach, Farm Credit of NW Florida
Thanks so much to all of the sponsors who make SPGC possible!