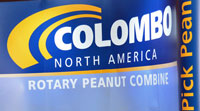 Southern peanut farmers got to learn more about the harvesters offered by Colombo North America, as a new sponsor for the conference this year.
"We've been on the market for 37 years in Brazil and about 8 years ago we decided to move to the US in the peanut market," said Lee Santos with the company. The Colombo Group is the largest Brazilian manufacturer of harvesters for peanuts with four facilities – two in Brazil, one in Argentina and one in Adel, Georgia. "That's where we have the assembly company and have all the parts there so we can ship to the dealers." They have 38 dealerships in the United States now to serve peanut farmers.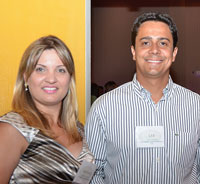 The company made the move into the southeastern peanut belt because they saw an opportunity to serve farmers in this area. "The U.S. is nine times bigger than Brazil in peanuts," he said, noting that peanut farmers like the Colombo Rotary Peanut Combine because it's easy to operate and they offer excellent service.
As a first time sponsor, Lee (pictured here with his wife Mariana) says they were impressed with the quality of farmers at the conference. "The way we see it, we'll be here every year now," he said.
Listen to my interview with Lee here:
Lee Santos, Colombo North America (MP3)