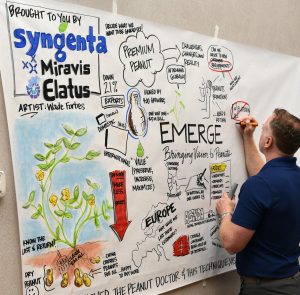 Syngenta appreciates the Southern Peanut Growers Conference each year as an opportunity to visit with growers.
"The Southern Peanut Growers Conference is always well attended, and it's always a great chance to see farmers and a lot of producers that you know and visit with them about the latest technology, find out what they're doing, find out what's working, what's not working, what are the conditions on their farm," said Wilson Faircloth, Agronomy Services Representative. "You're kind of halfway through the season, so you can kind of ground check some things and kind of helps you know how the rest of the season may play out."
Faircloth said Syngenta continues to offer fungicides in Elatus and Miravis that are well positioned to help growers fight tough diseases like white mold and leaf spot.
Wilson Faircloth, Syngenta (3:00)