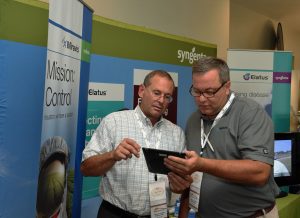 Syngenta celebrated 20 years as a sponsor for the Southern Peanut Growers Conference by bringing a new solution to growers – Miravis fungicide for leaf spot control in peanuts.
"We just received registration for that at the end of May," says district sales manager Lyle Stewart. "The residual control that we are seeing on that is amazing."
Stewart says growers are also pleased with the results they have been seeing from Elatus fungicide, which has been on the market for three years now, especially for white mold.
SPGC18 interview with Lyle Stewart, Syngenta