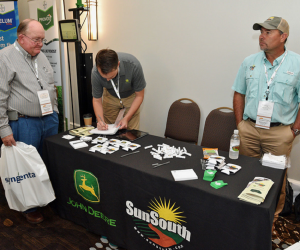 SunSouth Deere dealers were among those in attendance at this year's Southern Peanut Growers Conference. SunSouth has 21 convenient locations in Alabama, Georgia and Mississippi.
"Being involved with peanut growers is another way for us to really branch out into specialty crops, especially within our southern farmers. Our tractors, tillage tools and other units of equipment are really what these guys go for and we really appreciate their hard work that they put in every year using our equipment and giving us feedback that we need to make our company better," said Ashleigh Fleming, Southeast Sales Promotion Coordinator.
Fleming noted that John Deere has now been in the tractor business for 100 years and peanut farmers have been a huge part of that success.
Listen to Chuck's interview with Ashleigh Fleming here:

Interview with Ashleigh Fleming, John Deere