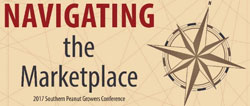 The theme for the 19th annual Southern Peanut Growers Conference theme is Navigating the Marketplace and this marks the 10th year in a row for us to attend and populate the conference blog for this great group of farmers from Alabama, Florida, Georgia and Mississippi.
This is the second year the event has been held at the Sandestin Resort on Florida's emerald coast. There is lots of farm bill talk going on here with Reps. Mike Rogers (R-AL) and Austin Scott (R-GA) on the program and we'll learn more about what's behind the "Peanut Program Works" campaign.
Florida Peanut Producers Association Executive Director Ken Barton talks about what is in store at this year's meeting, and how the Florida peanut crop is doing.
Interview with Ken Barton, Florida Peanut Producers