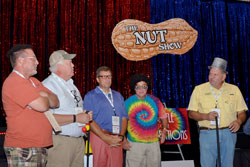 The Nuts vs the Sprouts in a Battle of the Generations Nut Show made for a fun night of entertainment at the welcoming dinner sponsored by Bayer.
Welcome reception sponsors Birdsong Peanuts and Kelley Manufacturing chose teams for the older generation versus the younger generation and Jimmy Laska's team of old timers could name that tune from Motown to Uptown Funk and every stop in between!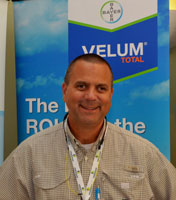 John Hand with Bayer was delayed arriving and missed opening night but did make it in the next day. Bayer continues to be a strong supporter of the peanut industry and this year introduced Propulse for peanut growers. "Propulse is a product we can use about 45-60 days after planting to give us a fungicide application as well as another nematicide boost," John says.
Learn more about Bayer's peanut portfolio in this interview.
Interview with John Hand, Bayer