Georgia peanut farmers have one of their own in the Trump administration as Secretary of Agriculture.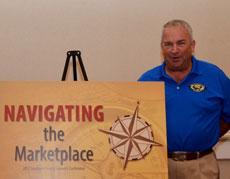 Don Koehler with the Georgia Peanut Commission says he got to know Sonny Perdue when he was a farmer. "He actually grew peanuts on his farm," Don says. "He's a man with a heart for agriculture."
As a real farmer who understands peanuts, Perdue will certainly have his input into the making of the next farm bill, but Don says Congress ultimately makes the final decision so Georgia farmers are sending the message that they are happy with the current peanut program.
"Our program's working right now," says Don Koehler with the Georgia Peanut Commission. "It gives us stability and gives us the ability to make decisions."
Don says the Southern Peanut Farmers Federation recently launched the Peanut Program Works website and video to educate people about the program and encourage Congress to keep it when they start drafting a new farm bill. Watch the video below and share.
Interview with Don Koehler, Georgia Peanut Commission
Southern Peanut Growers Conference Photo Album
Peanut Program Works from Southern Peanut Farmers Fed. on Vimeo.