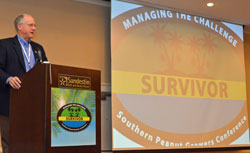 Rep. Mike Conaway (R-TX) addressed the 2016 Southern Peanut Growers Conference, stressing the importance of preparing now for the 2018 Farm Bill.
"My goal is, as is the goal of every ag chairman, is to get it done before the current one expires, not have to have short term extensions and all the drama that goes along with that, said Conaway. "But every chairman ever has said that exact same thing so we'll see how that works out."
Addressing the issue of splitting the nutrition and farm titles of the Farm Bill, which was proposed as a party platform at the Republican convention last week, Conaway said that decision has to be made as part of the process. "If you remember back in '14 we split the farm bill, we split the farm bill from the nutrition program in the House and the Senate put it back together and we ultimately got it passed together," he said. "To make a hard and fast decision today that you want to do that is wrong headed."
Listen to Rep. Conaway's remarks and press conference below and watch his remarks in the video.
Rep. Mike Conaway addresses SPGC