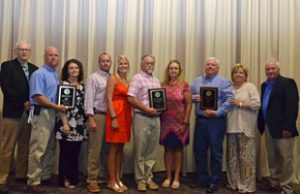 The 17th annual Farm Press awards presented to peanut farmers in different regions this year had a new name – the Peanut Efficiency Awards. The Farm Press editorial staff made the name change this year from profitability to efficiency but the end result is the same – three outstanding farmers who utilize the best tools and practices for maximum results on their farms.
This year's winners are pictured here with Farm Press Publications Content Director Forrest Laws on the right and Dr. Marshall Lamb of the National Peanut Research Laboratory on the left.
They are:
Lower Southeast Region – Matt Bryan of Newton, GA with his wife Tonya
Upper Southeast Region – the Belch family of Conway, NC – Brandon and fiance Lauren, Mike and Cindy
Southwest Region – Rickey Beardon of Plains, TX with his wife Karen
Learn more about them from Farm Press and thanks to Farm Press for their long standing support of the peanut industry and the Southern Peanut Growers Conference.