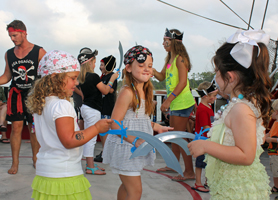 A special event sponsored by DuPont at the 2014 Southern Peanut Growers Conference let the little peanuts be pirates while the old salts enjoyed time on the high seas.
The "Sea Dragon" Pirate Cruise is one of Panama City Beach's premier attractions that includes an exceptional sightseeing experience of the waters, shoreline and wildlife near the entrance to St. Andrews Bay. The little peanut pirates enjoyed sword fighting, swabbing the deck, firing the "Kid cannon", reading a treasure map, finding a sunken treasure and sharing the loot.
It was fun for all thanks to gold sponsor DuPont Crop Protection – hope they do it again next year so I can go!
Check out more photos from SPGC here – Georgia Peanut Growers 2014 SPGC Photo Album