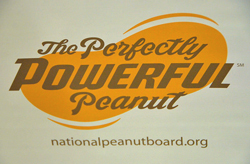 Move over Incredible Edible Egg and Other White Meat, there's a new brand in town and it's packing a powerful punch.
The National Peanut Board (NPB) is very excited about the new "Perfectly Powerful Peanut" brand that seems just, well – perfect. "We evaluated what we needed to do with our brand platform for peanuts and decided we needed something that would really emphasize the health benefits and nutritional power that peanuts have," said NPB president and CEO Bob Parker. "Power was the perfect word."
The new brand was just rolled out in April and Parker says it was immediately embraced by the industry. "We're seeing the state organizations using it in their advertising and promotion and we're seeing major brands use the term power in some of their advertising," he said.
Interview with Bob Parker, National Peanut Board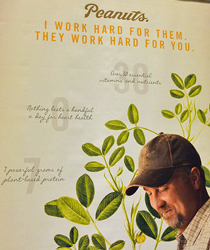 The brand platform rolled out with some great new images to go with it. "The National Peanut Board had some artists actually do renderings of the peanut plant and then they took these great pictures to show how everyone can use peanuts to power their healthy diet," said Leslie Wagner, Southern Peanut Growers executive director. The art serves as a backdrop for the advertisements to drive home the point that peanuts come from a green plant.
The beautiful new ads have been appearing in national print publications such as Men's Health, Family Circle and Cooking Light, in website advertising, and on New York subways – as well as in peanut country. "We jumped right on board and we're using it in everything we do," Leslie said.
Interview with Leslie Wagner, Southern Peanut Growers