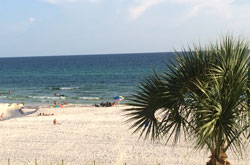 The sun is shining and Panama City Beach is beautiful as peanut growers from Alabama, Florida, Georgia and Mississippi are arriving today for the 16th annual Southern Peanut Growers Conference.
A record number of attendees are expected at this conference that just keeps getting better every year.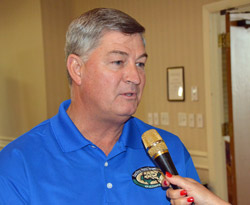 Florida Peanut Growers Association executive director Ken Barton says it's a pleasure to host this conference in the Sunshine State. "We want to welcome farmers and agribusiness here to Florida again," Ken says. "Folks love to come to the beach and they thoroughly enjoy coming to our conference to hear the information and the programs we have planned for them."
Ken says PCB is really a pretty central location for the four states involved. "Pretty much in the middle of the production area, a great location and not a tremendous burden to travel for farmers."
The Florida peanut crop is looking pretty good right now, according to Ken. "We were a little late planting but the crop has recovered from that really well, we're on schedule," he said, noting that they are getting good rains throughout the state's peanut producing area.
Listen to my interview with Ken here:
Interview with Ken Barton, Florida Peanut Producers Association (MP3)
The photo album is already started and will be growing quickly so check back often.