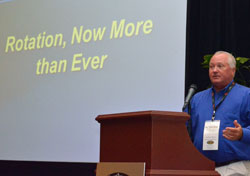 One of the most interesting, yet not yet clearly understood, parts of the new farm bill is the conversion of cotton base acres to generic base acres and what that means for peanut growers.
"We can convert generic cotton base into one of the covered programs commodities, peanuts being one of them," said Dr. Marshall Lamb, research leader at the USDA-ARS National Peanut Research Laboratory. "When that came about, a lot of growers became more interested in possibly expanding peanut production to get the generic base payments."
But Dr. Lamb thinks that's a mistake because of the current oversupply situation. "Also, you have to produce the peanuts. When prices are low, you might get a higher payment from the additional generic acres, but you're going to lose it producing the peanuts. When prices are high, you won't get the payments but you might make money producing the peanuts," he said. That's why he says rotation is more important now than ever.
Interview with Dr. Marshall Lamb, USDA-ARS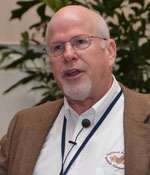 Dr. Stanley Fletcher with the National Center for Peanut Competitiveness (NCPC) gave the final presentation of the SPGC on managing farm base in the new farm bill.
I recorded Dr. Fletcher's presentation and we should be getting his power point to post as well. He provides some very detailed and important information for farmers to consider so this is worth 30 minutes of your time to hear.
Presentation by Dr. Stanley Fletcher, NCPC