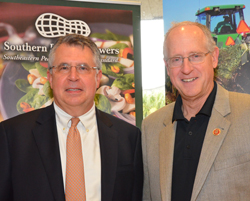 A policy update on the farm bill, or lack of one, was given by Congressman Mike Conaway (R-TX) and peanut industry lobbyist Bob Redding (left) during the final session of the 2013 SPGC.
Rep. Conaway, a member of the House Agriculture Committee, says there has been no shortage of controversy in this farm bill. "Convention wisdom was that you needed to keep the nutrition title and the farm bill per se together in order to gain enough votes in the House to get the bill passed," he said. "So we went with conventional wisdom, we took it to the floor and we failed."
The situation now is a farm-only bill passed out of the House and a combined bill from the Senate going to conference, but Conaway says the House still intends to get a nutrition bill passed. "We'll have a nutrition title and it will have reforms in it…probably stronger reforms than what we had in the one that passed out of committee."
The congressman believes that the threat of a presidential veto of a farm-only bill makes no sense. "If we strip the nutrition title out and nothing at all happens to nutrition, why would you veto the bill?"
[youtube http://www.youtube.com/watch?v=PezBsl-482U?feature=player_detailpage&w=400&h=243]
Rep. Conaway Interview (MP3)
Redding talked about what the bills going into conference contain for peanuts.
"In the Senate bill we've got a $523.77 target price, direct payments in both bills are eliminated," he said. "In the House bill, the target price is $535, marketing loan for both bills stays the same."
Redding says "the potential for insignificance" is the biggest threat to agriculture in Congress going forward, noting that the retirement of Sen. Saxby Chambliss of Georgia will be a great loss for peanut producers in particular. "That senate seat will be key for our Southeastern future," he said.
Bob Redding Farm Bill Comments (MP3)