The last time peanuts were the subject of a USDA Agricultural Resource Management Survey (ARMS) was 2004 but soon those outdated figures for peanut farmers financial and crop production practices will be updated.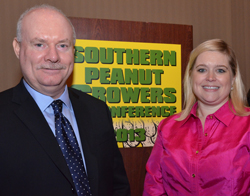 "This is a crucial time for us to get the information from the peanut industry because there's been a lot of changes since 2004," said Shiela Corley, Manager of the Environmental & Economic Surveys Section for USDA's National Agricultural Statistics Service (NASS). "We have three different phases. We just finished up the first phase and the second phase will be looking at chemicals, fertilizer use, production practices, pest management practices. Then we'll come back in winter/early spring 2014 and ask about economic issues." The ultimate goal is to get a total economic picture of the industry.
Interview with Shiela Corley (MP3)
USDA's Economic Research Service (ERS) is also involved in this survey and Dr. William McBride is leader of the Commodity Cost and Return Estimation Project. "We do estimates for 12 different commodities on a rotating basis and we're doing peanuts this year," he said.
Dr. McBride says the data collected in this survey is important for growers because it is used in policy decision making processes at both state and federal levels. "Cost of production is a piece of information that really helps," he said. "This information goes a long way in informing policy makers…so all commodities can be compared on an even basis."
He stresses that all personal information collected from farmers is completely confidential and is only reported and made public in aggregate form and he urges all growers who are contacted to respond as quickly as possible so they can meet their goal of 100% participation.
Interview with William McBride (MP3)