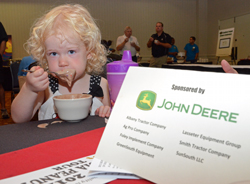 John Deere and several regional dealerships are new sponsors this year for the Southern Peanut Growers Conference, providing the traditional ice cream social hospitality for the registration area.
The conference is a family event for the growers who get the opportunity to mix business with pleasure. It's always fun to go around and take photos of the adorable little ones enjoying ice cream with lots of peanut toppings.
Check out the SPGC photo album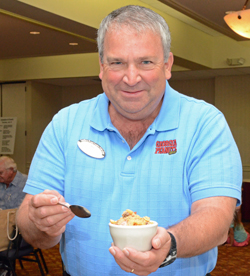 I checked in with Don Koehler of the Georgia Peanut Commission as soon as I arrived to find out what is in store for us this year.
"It's our biggest conference we've ever had, largest attendance. We've got more sponsors, we've got more going on," Don says. "What's really important is we've got a fantastic program this year."
That includes an update on the farm bill situation from the Chairman of the House Agriculture Committee on Saturday, Atlanta Rhythm Section on Saturday night and lots of great sessions in between. Don says they are grateful to the sponsors who make it all possible. "Sponsors make this so farmers can afford to come," he said.
Listen to my interview with Don here:
Don Koehler (MP3)