A new name on the sponsor list for the SPGC this year is Case IH/Aimtrac.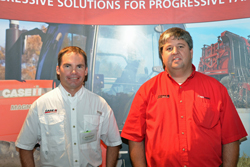 Bill Greer, Regional Manager with Aimtrac's Pinehurst, Georgia location, is pleased to be a part of the conference. "This is my first time being here," he said. "Seems like a really good turnout." Bill is pictured here on the right with Case IH colleague Richard Carver.
Aimtrac is a relatively new company with four Case IH locations in Georgia, including Americus, Camilla and Brooklet that all serve a good number of peanut farmers. "I think Pinehurst and Camilla have the largest number of acres," he said, noting that he's seen some of his local growers at the conference.
Listen to my interview with Bill here:

Bill Greer Interview (MP3)