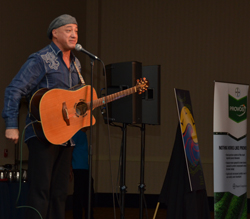 Never heard of a "rock comic" before, but that's what Mark Eddie is and thanks to the sponsorship of Bayer Crop Science for opening night of the Southern Peanut Growers Conference, we were treated to his particular brand of humor featuring songs from the past.
With lots of energy and the voice of a gifted mimic, Eddie kept the crowd entertained with funny bits interwoven with pieces of all types of music, from classic rock to old TV show themes. He's hard to describe, you just need to see it to understand!
"We've always enjoyed sponsoring the opening night reception and dinner and always look forward to it," said Bayer's John Hand this year. "We continue to launch new, innovative products that can help peanut growers increase profitability." Those products include Proline, Provost, Absolute and the newest offering, Belt.
Listen to my interview with John:

John Hand with Bayer Crop Science (MP3)