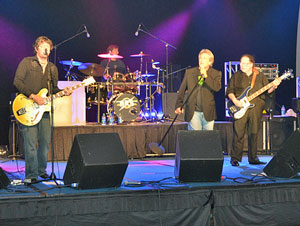 Playing their hits like "So Into You," "Champagne Jam," "Imaginary Lover," and "Doraville," the Atlanta Rhythm Section rocked the final night of the 14th annual Southern Peanut Growers Conference.
The final night was sponsored, as always, by Syngenta and was so enjoyable that Congressman Frank Lucas and his wife stayed until the very end.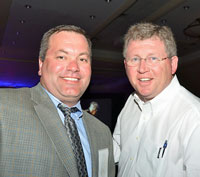 Syngenta's Lyle Stewart, pictured here with Rep. Lucas, gave a list of his top ten reasons to attend SPGC and why Syngenta has been a sponsor for all 14 years of the conference. Among those reasons:
1. Panama City Beach is a great place to be in July!
6. It's fun to watch Ken, Don, Malcolm and Randy run around like chickens with their heads cut off!
7. Learn more about newest technologies like CruiserMaxx Peanuts
9. Helps us figure out new ways to hopefully feed 9 billion people by 2050
10. To be with some of the finest people in the world
Find out all ten and more about CruiserMaxx Peanuts in this interview with Lyle:

Syngenta's Lyle Stewart (MP3)
Watch the folks at SPGC get so into ARS.
[youtube http://www.youtube.com/watch?v=7Jjz1u6SC90?feature=player_detailpage&w=400&h=243]