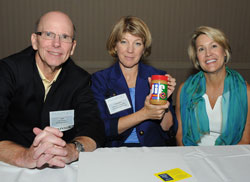 A very interesting session this morning was titled, "An Industry That Feeds The World." On the stage were Jeff Johnson, Birdsong Peanut Company, Stephanie Grunenfelder, American Peanut Council and Sally Wells, Birdsong Peanut Company. I spoke to Jeff and Stephanie afterward.
Jeff spoke about Plumpy Nut, a peanut butter based product that has been called "miraculous" as a cure for severe malnutrition and featured on major media outlets like 60 Minutes. He says that the product doesn't have to be mixed with water, a long shelf life, doesn't have to be refrigerated, is portable and doesn't have to be administered by a doctor. Top that off with the fact that kids love it and you've got a product to be proud of. The product has been used widely in Africa and has application in many other areas of the world too.
Listen to my interview with Jeff here:
Jeff Johnson Interview (MP3)
Stephanie focused her remarks on Africa and government feeding programs. She says the Peanut Butter For The Hungry project ties into her job of working on export marketing. She says that they started with hunger projects outside the U.S. but have also focused now on hunger domestically too.
Listen to my interview with Stephanie here:
Stephanie Grunenfelder Interview (MP3)