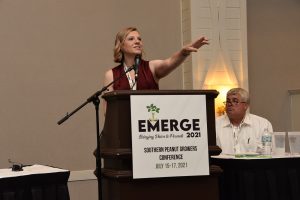 The second general session of the 2021 Southern Peanut Growers Conference provided a Vision for Farm Automation in the Future.
Three panelists spoke on that topic, including Chad Carney with Blue River Technology/John Deere. Carney said while innovation in agriculture used to be about getting bigger, faster, and stronger, the industry has seen a shift in last 20 years towards precision agriculture and getting smarter and more precise to make things easier for farmers.
Dr. Wes Porter from the University of Georgia shared the importance of defining on-farm automation and looking for opportunities to automate on the farm and at the processing level.
Dr. Joby Czarnecki from Mississippi State University believes it is important think about ways unmanned aerial vehicles can collaborate with ground-based autonomous vehicles to help with efficiency on the farm.
Listen to their comments and an interview with Czarnecki below.
Interview with Dr. Joby Czarnecki, MS State University (7:03)
General Session II – Vision for Farm Automation in the Future

Chad Carney, Blue River Technology (17:42)
Dr. Wes Porter, University of Georgia (31:00)