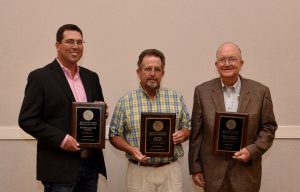 The 20th class of Farm Press Peanut Efficiency Award winners included the first from the Mid South.
The 2019 winners are:
Upper Southeast – Dennis and Katrine Spruill, Como, N.C.;
Lower Southeast – Graham and Julie Ginn, Calhoun County, Ga.;
Mid-South – Joe Morgan, Hattiesburg, Miss.
Southwest – Jared and Lexie Floyd, Brownfield, Texas.
Pictured here from left to right are Floyd, Spruill, and Morgan. The Ginns had a family emergency the morning of the awards and were unable to attend the breakfast.
Listen to this interview with Joe Morgan, the first Mid-South region Peanut Efficiency Award winner.
Farm Press Efficiency Award winner Joe Morgan interview