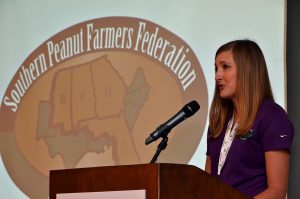 Jessie Bland with the Georgia Peanut Commission and Kaye Lynn Hataway of the Alabama Peanut Producers provided an update on recent activities of the Southern Peanut Farmers Federation (SPFF) on behalf of its members in all four states.
Jessie talked about research and promotion efforts, while Kaye Lynn discussed some of the education and legislative outreach.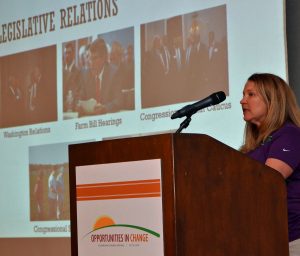 SPFF was established in 1998 to allow Southeastern peanut producers to speak with a unified voice on policy issues and to avoid duplication in research and promotional efforts.
One program that has been particularly beneficial to the industry is the Peanut Leadership Academy, sponsored by Syngenta Crop Protection and the American Peanut Shellers Association. The program began in 1998 with the first class of 14 peanut growers from Alabama, Florida and Georgia, and today includes growers from Mississippi, Texas, North Carolina and Virginia as well as sheller representatives.
Learn more about what SPFF has done for you lately by listening to their presentations and interviews here.
SPGC18 Jessie Bland, GA Peanut Commission


SPGC18 Kaye Lynn Hataway, Alabama Peanut Producers


SPGC18 Interview with Kaye Lynn Hataway, Alabama


SPGC18 Interview with Jessie Bland, Georgia

2018 Southern Peanut Growers Conference Photo Album