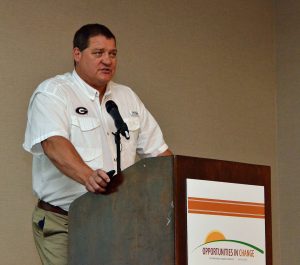 Dr. Kent Wolfe, director of the Center for Agribusiness & Economic Development at the University of Georgia, says increasing population movement out of rural counties make farming even more important to the economic health of those areas.
"Peanut production in those communities is very, very vital," said Dr. Wolfe in his presentation to the SPGC. "It supports a lot of the other businesses and industries in the county."
Listen to an interview with Dr. Wolfe and his presentation here.


SPGC18 Interview Dr. Kent Wolfe, UGA Agribusiness and Economic Development


SPGC18 presentation Dr. Kent Wolfe, UGA