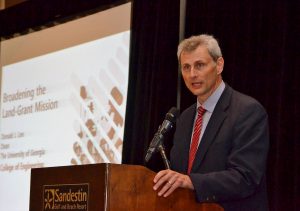 The University of Georgia is exploring how engineering can help agriculture meet new challenges.
Dr. Donald Leo, dean of the College of Engineering at the University of Georgia, has been working with the Georgia Peanut Commission to find ways to work together. "One of them is getting our students more involved in the challenges and opportunities you have in the agriculture industry," said Dr. Leo during the Friday luncheon, sponsored by BASF.
Dr. Leo says robotics, artificial intelligence, apps, and drones are all areas where different engineering disciplines can come together to help farmers.
SPGC18 speaker Dr. Donald Leo, UGA College of Engineering