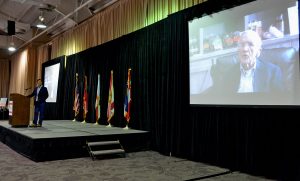 J. Frank McGill was chosen as this year's Valor Award winner, sponsored by Valent. Known as "Mr. Peanut," Dr. McGill served as president of the American Peanut Research and Education Society; chairman of the University of Georgia Agronomists, the U.S. Task Force on Peanut Policy and the U.S. Peanut Improvement Working Group. He was technical advisor to the Georgia Peanut Commission, U.S. Senate Agriculture Committee, National Peanut Council and National Peanut Growers Group. He traveled to 21 foreign countries as a peanut consultant.
Still very active at 92 years old, Dr. McGill was unable to make it to the conference to receive his award because he just recently fell off a ladder and hurt his ankle. But we did have a nice video of him, which can be viewed below.
The award was presented by David Yoder with Valent, which has been a sponsor of the conference for 20 years. The award is named for Valent's popular peanut herbicide.
SPGC18 Valor award interview with David Yoder, Valent
2018 Southern Peanut Growers Conference Photo Album