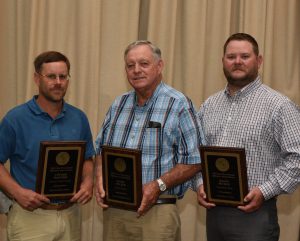 The 2018 Farm Press Peanut Efficiency Awards were presented at the Saturday morning breakfast. The awards are based on production proficiency, honoring growers who produce the highest yields using inputs wisely and efficiently.
The winners, in order from left to right, are:
Upper Southeast Region – Atwood McIntosh of Kingstree, SC
Lower Southeast Region – Jimmy Miller of Snead, Alabama
Southwest Region – Mason Becker of Terry County, Texas
Miller started farming in 1985 and grows peanuts and cotton in partnership with his nephew Lance.
SPGC18 interview with Peanut Efficiency Award winner Jimmy Miller, Alabama