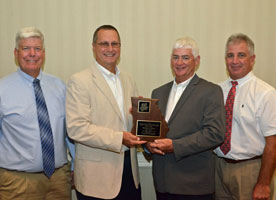 When the University of Georgia began recognizing peanut farmers for high yields, it was originally called the "One Ton Club." Now we're getting closer to FOUR tons!
The overall state yield winner in the Georgia Peanut Achievement Awards was Philip Grimes from Tifton who hit a yield of 7,084 pounds, the highest ever. "We had a lot of rain last year and we had an aggressive spray program and the peanuts done real well," he said. Being in the farming business for 40 years, Philip is not sure he ever expected to see yields this high. "We used to make two tons, now three and a half – it's really amazing the genetics they have in the peanut varieties now," he added.
Interview with Philip Grimes, Georgia state yield winner
UGA Extension Weed Specialist Eric Prostko filled in as the awards emcee this year after John Beasley retired and moved to Auburn University after last year. "But we have a new agronomist coming on Scott Mumford, we stole from Clemson, and ultimately he'll be doing some of these duties with the peanut team," Eric said, noting that Scott Tubbs has been filling the agronomist role since John left at the end of last year.
Eric says the "One Ton Club" started back in the 1950s and the new record this year was amazing. "Now we're over 7,000 and I can see these growers getting 8,000 at some point, especially with the new varieties that we'll potentially have in the future," he said.
Interview with Eric Prostko, UGA Extension Weed Specialist
The Georgia Peanut Achievement Awards are sponsored by Syngenta, BASF – and now Bayer Crop Science as well.