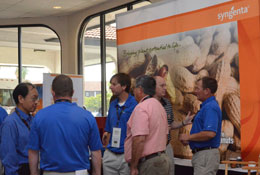 Syngenta is one of the companies that has been a sponsor of the Southern Peanut Growers Conference since the very beginning, and for good reason.
"We live and die by peanuts," says Syngenta's Lyle Stewart who has been handling the southeastern district for the company nearly two decades. "We've always have a tremendous portfolio for peanuts and we continue to."
Syngenta just recently received approval for Besiege insecticide in peanuts. "It's a pre-mix of two different chemistries that helps from a resistance standpoint," said Lyle. Besiege provides protection against key lepidopteran insect pests, including soybean looper, corn earworm, armyworm, sorghum webworm and tobacco budworm, as well as damaging secondary pests like stinkbugs and sorghum midge.
Lyle says next year they have a new fungicide coming on the market called Elatus, which we will hear more about soon.

Interview with Lyle Stewart, Syngenta