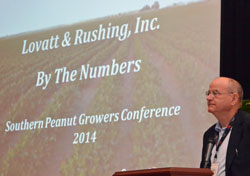 The first general session at the 2014 Southern Peanut Growers Conference took a long term look at peanut markets and one word was mentioned by all the speakers – China.
George Lovatt with Lovatt and Rushing peanut brokerage company talked numbers, the most important of which for farmers are prices – which are down – and acreage, which is up. "Acreage is up 23% and the question is, is it driven by the new farm bill or is it driven by the market? I hope it's the market," he said. Exports are now a third of domestic peanut production and that's why the Chinese market is so important. "Long term, China will be an enormous player in the world peanut market," said Lovatt.
Interview with George Lovatt, Lovatt & Rushing
Jeff Johnson, president of Birdsong Peanuts, agrees that China presents a great opportunity for the U.S. peanut industry. "China is really emphasizing rice, wheat and corn and putting less emphasis on peanuts," he said. "So I think you'll see a slight down trend in production every year and a slight increase in consumption, so it's a good trend for us."
There are challenges, however. "The biggest challenge is the 28% duty," said Johnson. "That adds about $200 a ton to the price which just makes it prohibitive." He adds that the industry is negotiating with China to make changes in that trade barrier, but he expects that will take some time.
Interview with Jeff Johnson, Birdsong Peanuts