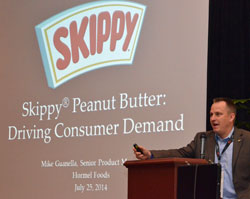 Hormel is mainly known for its meat products – like Spam, for example – but last year they jumped into the peanut butter market with the acquisition of the Skippy brand from Unilever.
"Skippy peanut butter is the largest acquisition we ever made," said Mike Guanella, Hormel Senior Product Manager, who spoke at the SPGC. "We actually were in the peanut butter business back in the 1930s but got out of that very quickly and been focused on hog and turkey processing."
Mike says Skippy has two main benefits for Hormel. "One is, it's a protein and Hormel is a protein company," he said. "Second is, it's a great brand, it's a brand people know and love."
Hormel has already made some market share growth since taking over the brand. "This brand is the largest in the center of the store for Hormel, so you can imagine the attention that it's getting and we're seeing some of the benefits of that attention," said Mike.
Interview with Mike Guanella, Hormel Foods