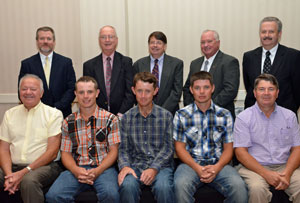 The winners of the 2014 Farm Press Peanut Profitability Awards once again included some amazing farmers who make up the best of the best.
This year's honorees, pictured here in the front row, are:
Upper Southeast Region — Billy Bain, Dinwiddie, Va.
Southwest Region — Isaac, John and George Guenther, Gaines County, Texas
Lower Southeast Region — Owen Yoder, Orrville, Ala.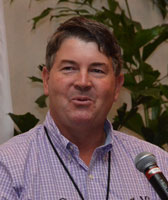 Owen just started growing peanuts in 2011 and he gives a lot of credit to the good Lord for his profitability in 2011. "I have to give credit to the timely rains and the good weather as the reasons why we did get the good yields," he said. "Everything just kinda came together – good yields, good grades and low inputs is what made this happen."
Owen is more than modest about his success in peanut farming, since profitability is about more than just good weather and good yields. As a diversified farmer, Owen also grows cotton, soybeans, grain sorghum, corn and wheat, and he decided to get into peanuts three years ago for rotation. "Any crop that you can add to your rotation complements another crop," he said.
Interview with Owen Yoder, Peanut Profitability award winner