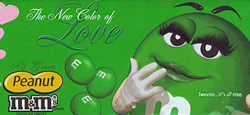 In 1947, Forrest E. Mars, Sr. made a commitment to building the business that his father started by creating a "mutuality of benefits" for all stakeholders. Still family- owned after a century, Mars, Inc. continues to build on its five core principals of Quality, Responsibility, Mutuality, Efficiency and Freedom that include a growing commitment to sustainable sourcing of agricultural commodity ingredients for their products.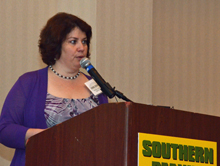 "We are making sure that we are sourcing responsibly the peanuts, cocoa and palm oil," said Ann Marie DeLorenzo of MARS at the SPGC. "We're doing everything we can in our factories to use less energy and less water… and from a standpoint of just overall Earth sustainability, we're making sure we do everything we can to protect it."
MARS is one of the top five buyer of peanuts globally with some of the top candy brands, including M&MS, Snickers and Reeses and Ann Marie said she was pleased to be able to represent the company at the SPGC. "We want to make sure that the farmers understand our commitment to the farmer, that they understand our needs as a company, and that we understand what their needs are," she said.
Listen to my interview with Ann Marie here:
Interview with Ann Marie DeLorenzo (MP3)