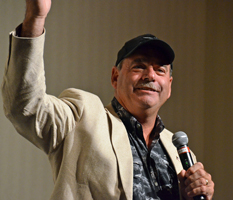 Spending 14 hours a day in a tractor cab growing up in North Carolina gave Jerry Carroll plenty of time to think about his dream of making people laugh. Now, when he's not back home on the family farm, he harvests a bumper crop of laughs as a corporate comedian.
"I'm first and foremost a farmer who happens to be one of the top corporate comedians, humorists, done radio, done TV," Jerry says. "I'm sitting here every day going 'Holy Cow!' how did I go from raising hogs, barefoot country boy, to traveling the world?"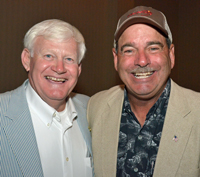 Jerry's appearance at SPGC was sponsored by Bayer Crop Science and at the end of his performance he did get a hat from the company, presented by Bayer's Dick Dowdy. Jerry did a lot of joking about how he wears a hat to hide his balding head, so he was pleased to get a Provost cap for that purpose! Provost® is Bayer's peanut fungicide, providing growers protection against all major foliar and soilborne diseases.
Jerry has performed for many agricultural companies and organizations over the years and you can find out more about him and how to book him at TheJerryCarroll.com and/or AgriculturalSpeaker.com.
Listen to my interview with Jerry here:
Comedian Jerry Carroll (MP3)