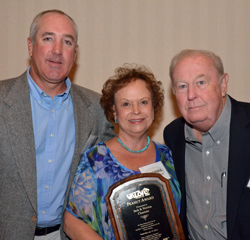 This year's Valent Valor award for leadership in the peanut industry was presented to a team – Jack and Norma Chastain of Georgia. Once again, John Altom of Valent had the pleasure of presenting this industry honor.
John noted that Jack and Norma have "made a life mission of integrity and service" to their community and the industry. They met at the University of Georgia nearly 50 years ago and have been together ever since, working side by side in Doster Warehouse – the peanut buying, warehousing and shelling business Jack bought from Norma's father in 1970.
Listen to my interview with Jack and Norma here:
Jack & Norma Chastain (MP3)
After receiving the award, Jack was the first speaking for the general session, talking about how the industry has changed with the times, becoming more efficient and sustainable.
Listen to Jack's comments here:
Jack Chastain presentation (MP3)