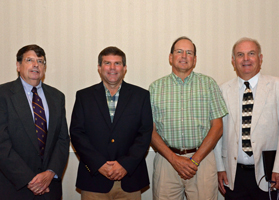 Three regional winners of the 14th annual Farm Press Peanut Profitability Awards were honored Saturday morning at the SPGC, but one was unable to be there to accept this year.
Southwest Region winner Murray Phillips of Pearsall, Texas had to stay back home on the farm, but you can read all about him and the other two winners in the latest edition of Farm Press.
Southeast Farm Press Editor Paul Hollis (far left) presented the southeast region award this year to the gentleman standing next to him – Tim McMillan of Enigma, Georgia. Tim, who is a seventh generation farmer with his brother Steve, says 2012 was the most perfect peanut producing year ever. "It was one of the years you dream about having," he said. His yields were the highest he has ever had at 5,732 pounds dryland and 5,991 irrigated.
Associate Editor Roy Roberson (far right) presented the Virginia Carolina Region award to Jart Hudson of Turkey, NC who also had a very good year in 2012, although not a record. "We had yields around the 4400 range, all dryland," said Jart. "It was a little above average but we have made higher."
The award is not just about yields, it's about profitability and both winners mentioned timeliness – for everything – as one of their keys to profitability.
Listen to my interview with Tim and Jart here:
Interview with 2013 Profitability Award Winners (MP3)