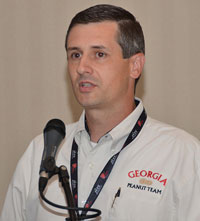 Researchers from universities in the southern peanut growing region presented updates on the latest R&D to help farmers fight pests and disease and increase production.
Agronomist Dr. Scott Tubbs with the University of Georgia talked about the role of peanuts in a cropping system, including the interesting history of how the peanut came to be a commercially produced crop, which was basically as a cover crop for cotton to help manage the boll weevil.
Listen to an interview with Dr. Tubbs on his presentation:
Dr. Scott Tubbs, UGA (MP3)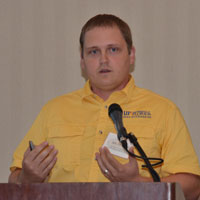 Plant pathologist Dr. Nick Dufault with the University of Florida discussed the situation in foliar and soil-borne diseases of peanuts, especially in areas that are getting heavy moisture this year. He talked about assessing risk under the Peanut Rx program and the factors to consider in a management program with the many options for fungicides available for peanuts. "You definitely want to rotate," he said. "That will help us maintain our longevity for these fungicides. We have so many we don't want to lose any tools in our toolbox."
Listen to my interview with Dr. Default here:
Dr. Nick Dufault, UF (MP3)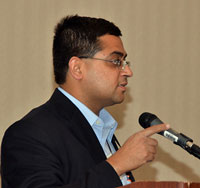 From Auburn University, the panel also included Dr. Ayanava Majumdar – better known as Dr. A to farmers and extension agents – and his topic was the burrower bug, which he says has been around for awhile but is getting to be more prevalent in peanut fields because of environmental conditions and cultural practices. "It's an opportunistic pest," he said. "They are in the stink bug family of insects with piercing sucking mouth parts." He says there are many different types so it is important to correctly identify them before doing anything about them.
Listen to my interview with Dr. A here:
Dr. Ayanava Majumdar (MP3)