It's really a dichotomy that peanuts can help with two of the most pressing health problems in the world today – obesity and hunger.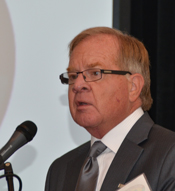 Jim Leek of JLA USA said it's reached the point where over a third of all U.S. children are considered clinically obese, especially in the south, while children are still starving in Africa. "Peanuts are just about as close to perfect a food as you can find," he said, noting it can reverse malnutrition in a matter of weeks. Jim knows this first hand himself, and his daughter and her husband and children are currently working in Rawanda to help educate people there about peanuts and how to grow them.
Listen to my interview with Jim here:

Jim Leek Interview (MP3)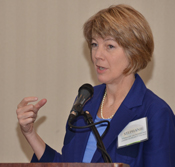 Stephanie Gruenfelder, American Peanut Council, talked about the growing use of the peanut-based nutritional product RUTF (Ready-to-Use Therapeutic Food), which also contains powdered milk, sugar, and vegetable oil. "It's designed specifically for kids who are really on the brink of death," she said. "In 2000, one country used it as a test and it proved to be a 95% success rate." By 2010, there were 40 countries using the product and that could be even greater if UNICEF had more dollars to spend on it.
However, Stephanie points out, peanut growers "can't look at people who are starving as a market, we can look at it as a humanitarian opportunity for us." To that end, the 2012 Peanut Proud Challenge was developed, urging growers to donate peanuts to be converted into RUTF and peanut butter for food banks.
Listen to my interview with Stephanie here:

Stephanie Gruenfelder Interview (MP3)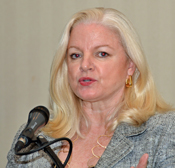 Pat Kearney with The Peanut Institute talked about some of the exciting new research they are doing that is showing how peanuts can help with weight management. "Peanuts are good for hunger even when people are overweight," Pat says. Peanuts are a better snack choice because they keep hunger pangs at bay longer. "Just an ounce of peanuts can satisfy you for about three hours," she said.
Another exciting study has found that peanuts with the skin are very high in antioxidants. "Peanuts with skins have actually more antioxidants and bio-actives than blueberries, green tea or chocolate," she said.
Listen to my interview with Pat here:

Pat Kearney Interview (MP3)