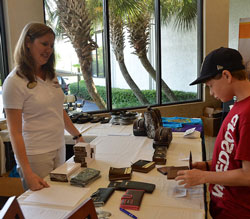 Peanut families were loving the peanut belts, photo frames, wallets and flip flops on sale at the Southern Peanut Growers Conference, thanks to the efforts of the Georgia Peanut Commission.
"Through the years, the Georgia Peanut Commission has seen the farmers that really love the cotton belts, so we checked out the company that makes those and was able to work out a peanut belt," said newlywed Joy Carter-Crosby with the GPC. "We actually introduced the products in January at our Georgia Peanut Farm Show and since then it's just taken off."
Joy says the next step is to offer the peanut-branded items on-line at the gapeanuts.com website.
Listen to my interview with Joy:

Joy Carter-Crosby (MP3)