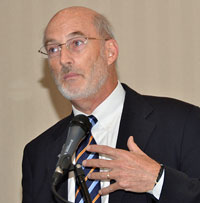 Agriculture is fighting a constant battle to stay one step ahead of proposed regulations that keep making raising food more challenging.
During the Saturday general session on the Good, the Bad and the Ugly in Washington, American Farm Bureau Director of Environment and Energy Policy Paul Schlegel talked with peanut growers about the ever growing crop of ugly government regulations. "Chief among the things we care about at the moment are a pending permit program EPA's implementing that relates to pesticide applications," said Paul, noting they have language in the House farm bill addressing that issue. Also of concern is EPA expansion of waters they can regulate, Atrazine, immigration, and agricultural dust regulations.
Schlegel says Farm Bureau is pleased with the transportation bill recently passed by Congress that basically contained everything agriculture wanted. "That was a big win for us," he said.
Listen to my interview with Paul:

Paul Schlegel, AFBF (MP3)