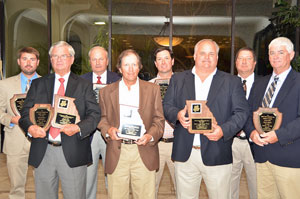 Each year at the Southern Peanut Growers Conference, the University of Georgia Peanut Team recognizes high yielding growers in the state with the Georgia Peanut Achievement Awards, sponsored by BASF and Syngenta.
This year's overall high yield award for the state went to John Gaines and Ricky Dowdy of Baker County with 7267 pounds per acre on 304 acres, which he says he accomplished with good rotation, a good spraying program and good land. "The Georgia extension agents greatly help," John said. "They do research that we can use and that helps us a heap."
Listen to my interview with John here:
John Gaines (MP3)
Jason Tyrone and Brian Corbet of Tycor Farms in Lake Park were high yield winners for 2011, the first year they ever grew peanuts, with 4984 pounds per acre on 709 acres. Jason says they normally grow vegetables on the operation but decided to go with a different rotation last year. "We still grew some vegetables, but we had some land we needed to do something with and we picked peanuts," he said. They were surprised by their high yield and they are growing peanuts again this year.
Listen to my interview with Jason here:
Jason Tyrone (MP3)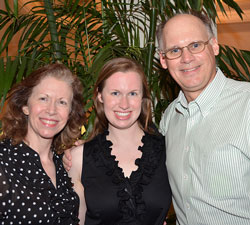 UGA Extension peanut agronomist Dr. John Beasley, pictured here at the conference with his wife and daughter, says this was their 50th consecutive year of recognizing the highest yields in the state.
"It's a great honor to recognize these great farm families," he said. "We just try to help the county agents help these growers. We learn from them and a lot of growers try to emulate what they do."
Listen to my interview with Dr. Beasley here:
Dr. John Beasley (MP3)